It's October, the season for falling leaves, scary movies, and college application deadlines. The November 1 early action and early decision deadlines are almost here!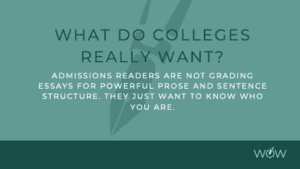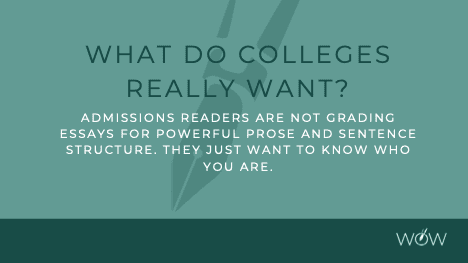 Are you ready to click send on your application(s)?
As a college essay coach, it's exciting to see my own students' hard work coming to fruition, but I'm also preparing for the predictable mini surge of anxiety that many students like you feel when you are about to let go of control and trust your fate to the admissions office.
I will share with you the same advice I share with my students: Don't revise when you are nervous, or when you are about to click send!
It won't help you, and it might even hurt you.
It's perfectly natural to feel nervous when you are about to send in an application to any college. Everyone does. Applying to college is a big step in your life. For weeks, months, or maybe even years, you've been thinking about your application, building your resume, and writing your essays.
Now you're on the verge of submitting and, as soon as you hit that button, the application will be out of your hands. That feeling of letting go makes everyone feel anxious, at least for a moment. That's okay! It's a normal human reaction and part of the process that everyone goes through. Feeling anxious does not mean you've done something wrong. It just means that you are taking a big step.
Related College Essay Articles:
How to Answer the UC Personal Insight Prompts
Our Answers to Frequently Asked College Essay Questions
Writing Great Supplemental College Essays 
Don't Try to Be Unique in College Essays
Feeling Butterflies?  That's Healthy
I do a lot of public speaking and performing on stage for work and personal creative projects. Many years ago, I got a great piece of advice during rehearsal for a play that I believe applies well to college essay submission anxiety.
The director told us that feeling butterflies on opening night was both healthy and predictable. It's perfectly understandable to feel nervous when a show that we've worked so hard on is finally going to find an audience. She wanted us to know that feeling nervous before the curtains open is not a sign that we were going to mess up. On the contrary, that little rush of adrenaline can sharpen our senses and help us perform at our best. Instead of trying to avoid that nervous feeling, the director said that we should expect it, embrace it, and trust ourselves.
When I'm about to give a big talk or perform for a big crowd, I know to expect that nervousness even before it arrives. For me, the butterflies start fluttering about 15 minutes before I go on stage. The feeling never trips me up because I expect it and recognize it's a healthy part of the process.
That advice is on my mind now because my Wow students are about to submit their applications.
I know it's natural for you to feel anxious right before you hit the submit button.
This is a high-stakes situation and the application that you've been polishing is about to leave your hands. That moment of letting go is a little unnerving, even for the most confident teens. It's important that you (and your parents) know to expect this feeling and recognize it as a healthy part of the submission process.
Last-minute changes are often focused on the essays. It's too late to raise your GPA or join a new club, and the essays might feel like something that you can still control.
In school, you often get the message that more is better—more studying, more effort, more extra credit. That leads some students (and parents) to the mistaken belief that more revision always results in a better essay.
You don't always realize that you run the risk of undermining the hard work you have already done. And when you feel surprised by that last-minute feeling of anxiety, you might want to try to soothe it by making ill-advised, last-minute changes to your essays.
Please don't do that.
How you respond to that anxious feeling can have a big impact on your application. Sometimes, people think that they'll stop feeling worried if they "fix" something in the application, make one more change, or add one more detail.
Making last-minute changes to any essay that is ready to be submitted to college is an emotional response; at this point, you will not in the right state of mind to communicate clearly. You might also create additional content that has not been proofread. Your last-minute revisions will be rushed and prone to grammar errors.
Revising when you are nervous is a huge mistake and will not improve your essay.
Resist the temptation.
Click Wow's approach to the college essay to access our free resources.