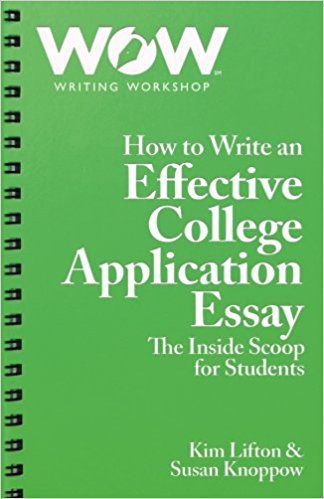 Every August, moms and dads just like you call us in a panic, asking for help understanding college application essays. They're worried about the competition to get into college – and the amount of work required to stand out and get noticed. Most of all, they're concerned that their children are not done writing yet.
Whether your child is back in school or about to enter senior year, it's time to make sure they're moving on those college essays. The essay is the most daunting part of the application process for many students, and you don't want your child to wait till the last minute to start.
The Go To Guide to Help Kids Write College Essays 
Yes, it's time to write, but there's no need to agonize over it. We just released our first guide specifically for helping parents get a handle on the essay. The eBook, How to Write an Effective College Application Essay, will help you walk your child through the writing process – and feel good about it. You'll also learn how to guide them through the essay without taking it over.
Parents tell us they are tired of being told to step away and back off. They want to help. They just don't know how. We will never suggest you write an application essay yourself or edit an essay so heavily it loses your child's personality and voice. However, we believe you can play a critical role in the writing process.
You don't need a 300-page book to help your child write a 650-word Common App essay or to write a 350-word response to one of the University of California's new personal insight questions. But you will  benefit from Wow's short parent guide that gives you simple instructions so you can help your child  write an effective essay, and put it into perspective.  It's easy to follow and has everything required to teach your child how to reflect on life experiences so he or she can write great essays.
At its core, the college essay is about reflection. That's challenging because most 17-year-olds have very little practice with this type of thinking and writing. You are more prepared to help your child learn this important skill than you may even know. We've seen other parents do it, and they are always surprised by how straightforward it is. Many are also surprised by how wrong they were initially about their role in the process.
Find Out How Parents Can Help
At Wow, we've been teaching students how to write essays that stand out inside the admissions office for years. With How to Write an Effective College Application Essay as your guide, your son or daughter can approach essay writing calmly and confidently, and get a better shot at admission to their dream school.
Everything in this guide comes from what we've learned from working with students and talking to admissions officers. We're glad to share this valuable insight to help you understand the college admissions industry. And, because we care so much about writing, we're practically giving away all of our secrets in the Inside Scoop for $9.99.