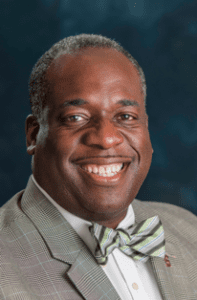 I met Michigan State University's Executive Director of Admissions and Recruitment John Ambrose at an industry meeting in Toronto in 2013. Over the years, we have talked quite a bit about the college essay and its role within the application process at MSU.
John sat in on a college essay training we conducted for the Detroit College Access Network; he was such a good sport he let us ask him a question during the training. A few years ago, he convinced me to run an essay writing workshop during our busy season for his favorite nonprofit serving underrepresented youth: Midnight Golf. It was a morning presentation; I stayed all day reading essays for his students.
He inspires me. I hope he inspires you, too. Here is some of John Ambrose's best advice for families who have students who want to apply to MSU:
What is the secret to getting into MSU?
Be your most authentic self! Students put a lot of effort into trying to convince admissions officers who they think we want to see. Authenticity is always appreciated.
What's your elevator pitch to prospective Spartans?
MSU is looking for people who care about making a difference in the world. The SPARTANS WILL speaks to the heart of who we are as SPARTANS and the attitude we have about developing world changers.
What advice do you give to parents who say college is so competitive today they would not be admitted to the colleges they attended?
Each year the application pool changes from the size to the strength of the academic profile. MSU is no different we have watched our application counts grow along with the academic profile. A number of students in our entering class begin at MSU with college credits they earned while they were in high school and that's one of the biggest changes from then to now.
What do you look for in a college essay?
The college essay is the one thing that can separate you from everyone else in the application pool. I look doe genuineness of character, unique flair of personality, identifiable traits of a leader or follower, team player and someone who has the capacity to add to the rich diversity of our campus and our traditions as a SPARTAN Nation.
What's the typical GPA of an admitted MSU student?
Our freshman profile at the 50th percentile ranges from a 3.5 – 3.9 GPA, and 1130-1300 SAT Composite and a 23-29 ACT.
How important is AP and IB?
We encourage students to challenge themselves and take the highest level of preparatory coursework available. AP and IB students gain a wealth of academic texture and contextual rigor that provides them with a wonderful sense of preparedness prior to enrolling in college or university. I think it is very important to the academic experience that a high school student can choose from.
What are the top factors you consider for admission to MSU?
1. GPA
2. Test Score
3. Rigor
4. Grade trend
We also consider the personal statement, senior year schedule, and extra-curricular activity as a part of our holistic review.
How can an application essay help an applicant?
In the essay, take the opportunity to show us your authentic self and try really hard not repeat things that are already apart of your application. I wish students spent more time on their essay.
What advice would you give to a prospective student whose grades and test scores are not a sure thing for MSU?
If they want to be at MSU, we want them to be here, too. Transferring into MSU is competitive but not at the same volume as entering with the freshman class. Students have a strong opportunity to transfer who have 28 earned college credits, completed college algebra and college writing, while maintaining a 3.0 or better cumulative grade point average.
How do you respond to a student who thinks the MSU campus is too big?
You can always make big things smaller, and we have done that by offering living and learning programs that give the student a small college feel in a large university setting. Additionally, we have compartmentalized the campus into geographic pockets we call neighborhoods by decentralizing some key support services, so you don't have to travel across campus to go to tutoring or the health clinic. Those services are available in each neighborhood. Come see us, and we will be happy to show you around the campus!
Does Your Child Need Help Applying to MSU?
We've been super busy this season. But we've got openings beginning today if you still need help with college essays for MSU or any school. Click here if you're interesting in learning more about Wow services.